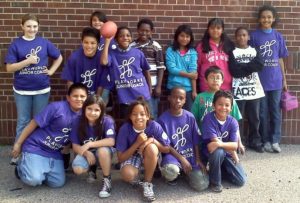 We love our neighbors down the road at Mayflower Elementary School. We've been praying for opportunities to come face to face with the Mayflower community as a way to serve them, and God heard our prayer! On a weekly basis, we send 3 representatives from Sunrise to serve as "Recess Coaches" on the Mayflower playground.  What is a recess coach?  I'm glad you asked! Here are a few examples of what we do for 90 minutes, once a week.
Meet and get to know the children in grades K-2
Manage/Coach a game or activity, and even play with the kids!
Help resolve conflicts that arise (simply talking it out with them)
Encourage the kids with positive talk while they play!
The kids are clearly impacted by people who want to know their name and who take an interest in them. Sometimes that's all it takes to convince a child that they're important!  If this opportunity to serve sounds like something you'd like to get involved in, we're looking to provide more volunteers next semester. We have a 29 year old female on the team, as well as a 75 year old male. Anyone can serve! You simply need to have a heart that is ready to love and serve kids. As we invest in these children, we're excited to invite them to future events at Sunrise that we will gear toward kids. Thank you for considering this opportunity to serve, supporting the ministry vision of Sunrise to passionately serve our community! Contact the church office if you'd like to volunteer in this area.