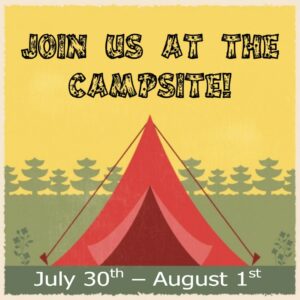 Our church camp out committee is making plans for the 2021 camp out on July 30 th – August 1 st at Cecil M. Harden Lake (Raccoon Lake State Recreation Area) in Rockville. 
Sites 055, 056 and 057 will be the center of the camp out activities.
Go online and reserve a site for the weekend close to sites 055, 056 and 057.  Currently, there are several sites in close proximity to these sites.  Reservations can be made at https://indianastateparks.reserveamerica.com/camping/raccoon-lake/r/campgroundDetails.do?contractCode=IN&parkId=570029 
Once you have a site reserved, please let Bonnie Crawford know you have registered and the site you will be in so we can keep an accurate list.  You can email Bonnie at bonnielouz@comcast.net
The pandemic has seen a large increase in the number of people who are enjoying the great outdoors by visiting campgrounds and parks.  Campgrounds are already filling up for the summer months especially on the weekends.  If you plan to make reservations to be part of the camp out, please make your reservations quickly so you won't be disappointed because there are no sites available.
 As we get closer to the camping weekend, we will send out more details to those who are registered.  We hope you will consider joining us.