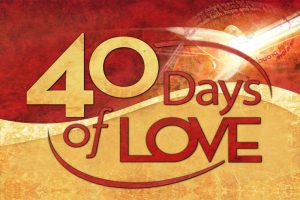 Life Groups are a crucial part of the church experience. These are groups of 8-12 people who gather every 2 weeks. During these small group times, we enjoy friendships, food and an applicable study to live more in-line with Jesus and each other!
On September 8, we'll begin a new Life Group series called "40 Days of Love", and you're invited! During this 6-week series, Life Groups will actually meet each week, diving into discussion and application of what the series has to offer. We can spend all our lives learning about the love of Jesus, but what good does it do if we don't put it into ACTION?!
The elements of LOVE that we'll be looking at throughout this 6-week series are:
Love Matters Most
Love is Patient, Love is Kind
Love Speaks the Truth
Love is Forgiving
Love Is Not Selfish
The Habits of a Loving Heart
To join a group, e-mail our Life Group Coodinator, Mike O'Shaughnessey at mikeoshaughnessey@sunrisecrc.org.
*The 40 Days of Love curriculum resource is provided by Saddleback Church. Their mission with the series was for churches around the world to use it, so we're excited to dive into it!