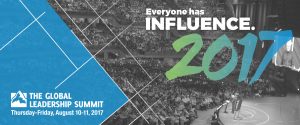 Consider joining us on August 11-12, as we seek to become better leaders by experiencing the Global Leadership Summit right here in Lafayette! Sunrise Church is a Global Leadership Summit (GLS) supporter and a partner church. Because of our partnership, we are excited to offer an exclusive rate of $99 to anyone who registers through Sunrise Church. The local summit will take place at First Assembly of God Church from 9:00 a.m. – 5:00 p.m. on both days. Check out the promotional video below by Bill Hybels, the man who envisioned and created the GLS. You might also want to get introduced to the 2017 speakers by viewing the additional video. We trust you'll be inspired to participate, and we encourage you to see the information at the bottom of the page on how to register. See you at the Summit!
The 2017 GLS Speakers:
How to Register:
To register, simply visit www.willowcreek.com/events/leadership. Follow the registration instructions, including selecting our local Lafayette site, and don't forget to enter the Sunrise Referral Code: SPC17.  Your cost, after entering the code, will be $129.00.  Should you have any questions, feel free to contact Mike O'Shaughnessey at the church office: (765) 471-9548. We hope to see you at the Summit!