Join us for our
"Outdoor Family Movie Night"
Friday Sept. 11
Arrive by 7:30 pm (movie begins at dusk)
Bring your blankets, pillows and/or lawn chairs as we meet on the front lawn* to watch Walt Disney's Enchanted.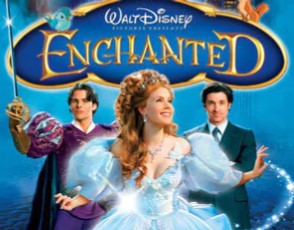 This family friendly movie takes place in the fairy-tale land of Andalasia, where pretty young Giselle frolics with her woodland pals, and falls in love with the handsome Prince Edward.  But when Giselle arrives at the castle to marry her Prince Charming, his evil stepmother sends the princess-to-be to a place where there are "no happy ever afters": New York City. Cynical divorce lawyer Robert comes to her rescue, but can Giselle find her way back to her true love?
*In case of inclement weather, movie will be shown inside the sanctuary.