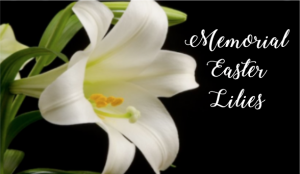 As we have done at Christmas time with the memorial poinsettias, this year we will be ordering Easter lilies in memory of our loved ones to decorate the sanctuary at Sunrise.
Each lily costs $8.25 and will be delivered with a purple pot cover.
If you would like to order a memorial lily, we offer two ways to order.
1.  Click on the link below to fill out the order form, and then click on the Pay Pal link below ("Buy Now").
2.  Fill out an order form at the Welcome Center and leave the order and cash/check in the designated box also located at the Welcome Center
All orders are due by MARCH 18
Please contact the office with any questions.