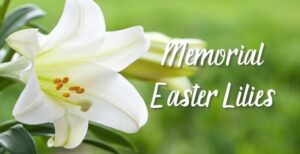 We will again be ordering Easter lilies, in memory of our loved ones to decorate the sanctuary at Sunrise.
Each lily costs $8.25
If you are interested in placing an order please visit the Welcome Center on Sunday to fill out an order form or simply print off the attached order form and place it along with your payment in the designated box at the Welcome Center.
All orders must be submitted by March 20th!
Please contact the church office if you have any questions.